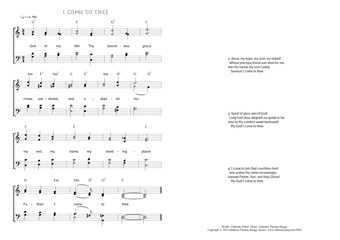 Christ My Song - 1001
God of my life! Thy boundless grace - I come to Thee
(Charlotte Elliott/Johannes Thomas Rüegg)
I come to Thee.
"Into thine hand I commit my spirit: thou hast redeemed me,
O Lord God of truth." (Psalm 31,5)
1. God of my life! Thy boundless grace
chose, pardoned, and adopted me;
my rest, my home, my dwelling-place!
Father! I come to thee. PDF - Midi
2. Jesus, my hope, my rock, my shield!
Whose precious blood was shed for me,
into thy hands my soul I yield;
Saviour! I come to thee.
3. Spirit of glory and of God!
Long hast thou deigned my guide to be;
now be thy comfort sweet bestowed!
My God! I come to thee.
4. I come to join that countless host
who praise thy name unceasingly;
blessed Father, Son, and Holy Ghost!
My God! I come to thee.
Charlotte Elliott, Selections from the Poems of Charlotte Elliott, 228-229.