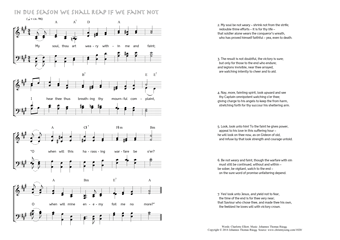 Christ My Song - 1020
My soul, thou art weary within me and faint - In due Season we shall Reap if we Faint not (Charlotte Elliott/Johannes Thomas Rüegg)
In due Season we shall Reap if we Faint not.
1. My soul, thou art weary within me and faint;
I hear thee thus breathing thy mournful complaint,
"O when will this harassing warfare be o'er?
O when will mine enemy foil me no more?" PDF - Midi
2. My soul be not weary – shrink not from the strife;
redouble thine efforts – it is for thy life –
that soldier alone wears the conqueror's wreath,
who has proved himself faithful – yea, even to death.
3. The result is not doubtful, the victory is sure;
but only for those to the end who endure;
and legions invisible, near thee arrayed,
are watching intently to cheer and to aid.
4. Nay, more, fainting spirit, look upward and see
thy Captain omnipotent watching o'er thee;
giving charge to his angels to keep the from harm,
stretching forth for thy succour his sheltering arm.
5. Look, look unto him! To the faint he gives power,
appeal to his love in this suffering hour –
he will look on thee now, as on Gideon of old,
and infuse by that look strength and courage untold.
6. Be not weary and faint, though the warfare with sin
must still be continued, without and within –
be sober, be vigilant, watch to the end –
on the sure word of promise unfaltering depend.
7. Yes! look unto Jesus, and yield not to fear,
the time of the end is for thee very near;
that Saviour who chose thee, and made thee his own,
the feeblest he loves will with victory crown.
Charlotte Elliott, Leaves from the Unpublished Journals, Letters, and Poems of Charlotte Elliott, 201-202.