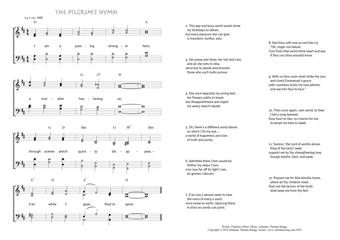 Christ My Song - 1022
I am a passing stranger here - The Pilgrim's Hymn
(Charlotte Elliott/Johannes Thomas Rüegg)
The Pilgrim's Hymn.
1. I am a passing stranger here,
a traveller hastening on,
through scenes which quickly disappear, –
e'en while I gaze, they're gone. PDF - Midi
2. This gay and busy world would strive
my footsteps to detain,
but every pleasure she can give
is transient, hurtful, vain.
3. Her pomp and show, her toil and care,
and all she sets to view,
serve but to dazzle and ensnare
those who such baits pursue.
4. She once beguiled my erring feet,
her flowery paths to tread;
but disappointment and regret
my weary search repaid.
5. Oh, there's a different world above,
on which I fix my eye, –
a world of happiness and love,
of truth and purity.
6. Admitted there I fain would be,
thither my steps I turn;
e'en now far off its light I see,
its glories I discern.
7. E'en now I almost seem to hear
the voice of many a saint,
once loved on earth, rejoicing there
in bliss no words can paint.
8. And thus with one accord the cry,
"Oh, linger not below!
Turn from that world thine heart and eye,
if thou our bliss wouldst know.
9. With us thou soon shalt strike thy lyre,
and chant Emmanuel's grace,
with countless hosts his love admire,
and see him face to face."
10. Then once again, vain world, to thee
I bid a long farewell;
thou hast no ties, no charms for me,
to tempt me here to dwell.
11. Saviour, the Lord of worlds above,
King of the land I seek,
support me by thy strengthening love,
though fearful, faint, and weak.
12. Prepare me for that blissful home,
where all thy children meet;
then not the terrors of the tomb
shall keep me from thy feet.
Charlotte Elliott, Leaves from the Unpublished Journals, Letters, and Poems of Charlotte Elliott, 238-240.