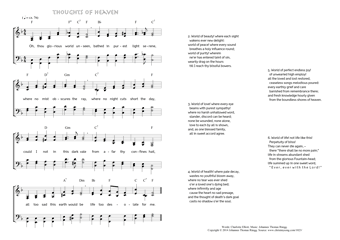 Christ My Song - 1023
Oh, thou glorious world unseen - Thoughts of Heaven
(Charlotte Elliott/Johannes Thomas Rüegg)
Thoughts of Heaven.
1. Oh, thou glorious world unseen,
bathed in purest light serene,
where no mist obscures the ray,
where no night cuts short the day,
could I not in this dark vale
from afar thy confines hail,
all too sad this earth would be
life too desolate for me. PDF - Midi
2. World of beauty! where each sight
wakens ever new delight:
world of peace! where every sound
breathes a holy influence round;
world of purity! wherein
ne'er has entered taint of sin,
wearily drag on the hours
till I reach thy blissful bowers.
3. World of love! where every eye
beams with purest sympathy!
where no harsh unhallowed word,
slander, discord can be heard;
none be wounded, none alone,
love to each by all is shown,
and, as one blessed family,
all in sweet accord agree.
4. World of health! where pale decay,
wastes no youthful bloom away,
where no tear was ever shed
o'er a loved one's dying bed;
where infirmity and age
cause the heart no sad presage,
and the thought of death's dark goal
casts no shadow o'er the soul.
5. World of perfect endless joy!
of unwearied high employ!
all the loved and lost restored,
ceaseless songs melodious poured:
every earthly grief and care
banished from remembrance there;
and fresh knowledge hourly given
from the boundless shores of heaven.
6. World of life! not life like this!
Perpetuity of bliss!
They can never die again, –
there "there shall be no more pain;"
life in streams abundant shed
from the glorious Fountain-head;
Life summed up in one sweet word,
"Ever, ever with the Lord!"
Charlotte Elliott, Leaves from the Unpublished Journals, Letters, and Poems of Charlotte Elliott, 215-217.