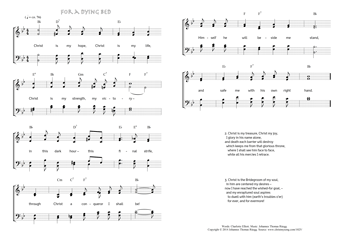 Christ My Song - 1025
Christ is my hope, Christ is my life - For a Dying Bed
(Charlotte Elliott/Johannes Thomas Rüegg)
For a Dying Bed.
1. Christ is my hope, Christ is my life,
Christ is my strength, my victory –
in this dark hour – this final strife,
through Christ a conqueror I shall be!
Himself he will beside me stand,
and safe me with his own right hand. PDF - Midi
2. Christ is my treasure, Christ my joy,
I glory in his name alone,
and death each barrier will destroy
which keeps me from that glorious throne,
where I shall see him face to face,
while all his mercies I retrace.
3. Christ is the Bridegroom of my soul,
in him are centered my desires –
now I have reached the wished-for goal, –
and my enraptured soul aspires
to dwell with him (earth's troubles o'er)
for ever, and for evermore!
Charlotte Elliott, Leaves from the Unpublished Journals, Letters, and Poems of Charlotte Elliott, 235.