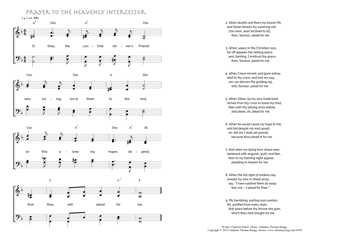 Christ My Song - 1030
O thou, the contrite sinner's Friend! - Prayer to the Heavenly Intercessor (Charlotte Elliott/Johannes Thomas Rüegg)
Prayer to the Heavenly Intercessor.
1. O thou, the contrite sinner's Friend!
who loving, lov'st them to the end,
on this alone my hopes depend,
that thou wilt plead for me. PDF - Midi
2. When doubts and fears my bosom fill,
and Satan tempts my wavering will
(too soon, alas! inclined to ill),
then, Saviour, plead for me.
3. When, weary in the Christian race,
far off appears the resting-place,
and, fainting, I mistrust thy grace,
then, Saviour, plead for me.
4. When I have sinned, and gone astray,
deaf to thy voice, and lost my way,
nor can discern thy guiding ray,
still, Saviour, plead for me.
5. When Satan, by my sins made bold,
strives from thy cross to loose my hold,
then with thy pitying arms enfold,
and plead, oh, plead for me.
6. When he would cause my hope to fail,
and bid despair my soul assail,
oh, tell me I shall yet prevail,
because thou plead'st for me.
7. And when my dying hour draws near,
darkened with anguish, guilt, and fear,
then to my fainting sight appear,
pleading in heaven for me.
8. When the full light of endless day
reveals my sins in dread array,
say, "I have washed them all away;
fear not, – I plead for thee."
9. My trembling, parting soul sustain,
till, purified from every stain,
that place before thy throne she gain,
which thou hast bought for me.
Charlotte Elliott, Leaves from the Unpublished Journals, Letters, and Poems of Charlotte Elliott, 209-210.