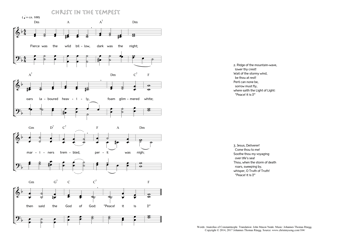 Christ My Song - 104
Fierce was the wild billow - Christ in the tempest
(Anatolius of Constantinople/John Mason Neale/
Johannes Thomas Rüegg)
Christ in the tempest.
Mark 4,37-39.
1. Fierce was the wild billow,
dark was the night;
oars laboured heavily,
foam glimmered white;
mariners trembled,
peril was nigh;
then said the God of God:
"Peace! it is I! PDF - Midi
2. Ridge of the mountain-wave,
lower thy crest!
Wail of the stormy wind,
be thou at rest!
Peril can none be,
sorrow must fly,
where saith the Light of Light:
"Peace! it is I!"
3. Jesus, Deliverer!
Come thou to me!
Soothe thou my voyaging
over life's sea!
Thou, when the storm of death
roars, sweeping by,
whisper, O Truth of Truth!
"Peace! it is I!"
Anatolius of Constantinople, translated by John Mason Neale, in: Schaff, Philip: Christ in Song, 1870, 353-354.
Schaff remarks on 1,7: "The terms "God of God," and "Light of Light,"
are used of Christ in the Nicene Creed against the Arian heresy.
Anatolius was a member of the fourth general Council which met at Chalcedon, 451."
On 2,3: "Orig.: Euroclydon, or Euryclydon, a heavy wind."