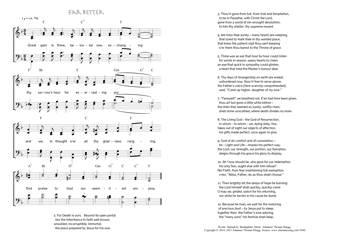 Christ My Song - 1040
Great gain is thine, belovèd one, exchanging - Far Better
(Hannah K. Burlingham/Johannes Thomas Rüegg)
Far Better.
"For me to live is Christ: to die, gain."
(Philippians 1,21; John 14, 28)
1. Great gain is thine, belovèd one, exchanging
thy sorrow's hour for everlasting joy;
and we, in thought o'er all thy gladness ranging,
find praise to God our seemliest employ. PDF - Midi
2. For Death is ours. Beyond its open portal
lies the inheritance to faith well known,
unsullied, incorruptible, immortal;
the place prepared by Jesus for his own.
3. Thou'rt gone from toil, from trial and temptation,
to be in Paradise, with Christ the Lord;
gone from a world of sin-wrought desolation,
to him thy shelter, thy supreme reward.
4. We miss thee sorely – many hearts are weeping,
that loved to mark thee in thy wonted place;
that knew the patient vigil thou wert keeping
o'er them thou barest to the Throne of grace.
5. Thine was an ear that hour by hour could listen
for words in season, weary hearts to cheer,
an eye that quick in sympathy could glisten,
a heart that held the Master's honour dear.
6. Thy days of strangership on earth are ended;
unburdened now, thou'rt free to serve above;
the Father's voice (here scarcely comprehended),
said, "Come up higher, daughter of my love."
7. "Farewell!" we breathed not. E'en had time been given,
thou art but gone a little while before –
the links that seemed so surely, swiftly riven,
shall shine unscathed, where death divides no more.
8. The Living God – the God of Resurrection,
in whom – to whom – we, dying daily, live,
takes out of sight our objects of affection,
his gifts made perfect, once again to give.
9. God of all comfort and of consolation –
he – Light and Life – reveals his perfect way;
the Lord, our strength, our portion, our Salvation,
deigns through his grace his glory to display.
10. Ah ! how should he, who gave for our redemption
his only Son, aught else with him refuse?
No! Faith, from fear maintaining full exemption,
cries, "Abba, Father, do as thou shalt choose."
11. Then brightly let the lamps of hope be burning:
the Lord himself shall quickly, quickly come.
O may we, girded, watch for his returning,
nor while he tarries in his cause be dumb.
12. Because he lives, we wait for the restoring
of precious dust – by Jesus put to sleep;
together then, the Father's love adoring,
the "many sons" his festival shall keep.
Hannah K. Burlingham, Wayside Songs, 1901, 38-40.