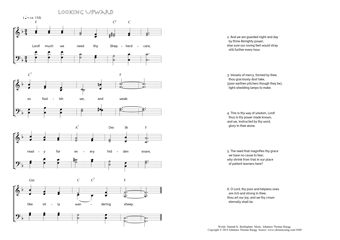 Christ My Song - 1048
Lord! much we need thy Shepherd-care - Looking Upward
(Hannah K. Burlingham/Johannes Thomas Rüegg)
Looking Upward.
"And He said unto me, 'My grace is sufficient for thee;
for My strength is made perfect in weakness.'
Most gladly, therefore, will I rather glory in my infirmities,
that the power of Christ may rest upon me." PDF - Midi
(2 Corinthians 12, 9)
1. Lord! much we need thy Shepherd-care,
so foolish we, and weak:
ready for every hidden snare,
like silly wandering sheep.
2. And we are guarded night and day
by thine Almighty power;
else sure our roving feet would stray
still further every hour.
3. Vessels of mercy, formed by thee,
thou graciously dost take,
(poor earthen pitchers though they be),
light-shedding lamps to make.
4. This is thy way of wisdom, Lord!
thus is thy power made known;
and we, instructed by thy word,
glory in thee alone.
5. The need that magnifies thy grace
we have no cause to fear;
why shrink from trial in our place
of patient learners here?
6. O Lord, thy poor and helpless ones
are rich and strong in thee;
thou art our joy, and we thy crown
eternally shall be.
Hannah K. Burlingham, Wayside Songs, 1901, 93-94.