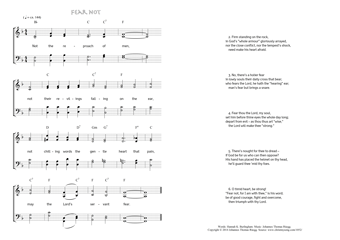 Christ My Song - 1052
Not the reproach of men - Fear not
(Hannah K. Burlingham/Johannes Thomas Rüegg)
Fear not.
"And unto man he said, 'Behold, the fear of the Lord, that is wisdom; and to depart from evil is understanding.'" (Job 28,28)
1. Not the reproach of men,
not their revilings falling on the ear,
not chilling words the gentle heart that pain,
may the Lord's servant fear. PDF - Midi
2. Firm standing on the rock,
in God's "whole armour" gloriously arrayed,
nor the close conflict, nor the tempest's shock,
need make his heart afraid.
3. No, there's a holier fear
in lowly souls their daily cross that bear;
who fears the Lord, he hath the "hearing" ear;
man's fear but brings a snare.
4. Fear thou the Lord, my soul,
set him before thine eyes the whole day long;
depart from evil – as thou thus art "wise,"
the Lord will make thee "strong."
5. There's nought for thee to dread –
if God be for us who can then oppose?
His hand has placed the helmet on thy head,
he'll guard thee 'mid thy foes.
6. O timid heart, be strong!
"Fear not, for I am with thee," is his word;
be of good courage, fight and overcome,
then triumph with thy Lord.
Hannah K. Burlingham, Wayside Songs, 1901, 53-54.