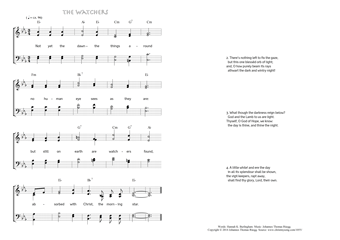 Christ My Song - 1055
Not yet the dawn – the things around - The Watchers
(Hannah K. Burlingham/Johannes Thomas Rüegg)
The Watchers.
1. Not yet the dawn – the things around
no human eye sees as they are:
but still on earth are watchers found,
absorbed with Christ, the morning star. PDF - Midi
2. There's nothing left to fix the gaze,
but this one blessèd orb of light;
and, O how purely beam its rays
athwart the dark and wintry night!
3. What though the darkness reign below?
God and the Lamb to us are light.
Thyself, O God of Hope, we know:
the day is thine, and thine the night.
4. A little while! and ere the day
in all its splendour shall be shown,
the vigil keepers, rapt away,
shall find thy glory, Lord, their own.
Hannah K. Burlingham, Wayside Songs, 1901, 60-61.