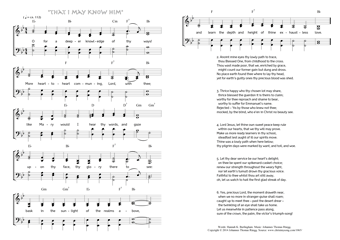 Christ My Song - 1065
O for a deeper knowledge of thy ways! - "That I may Know Him"
(Hannah K. Burlingham/Johannes Thomas Rüegg)
"That I may Know Him."
1. O for a deeper knowledge of thy ways!
More heart-to-heart communing, Lord, with thee;
like Mary would I hear thy words, and gaze
upon thy face, thy glory there to see:
bask in the sunlight of the realms above,
and learn the depth and height of thine exhaustless love. PDF - Midi
2. Anoint mine eyes thy lowly path to trace,
thou Blessed One, from childhood to the cross.
Thou wast made poor, that we, enriched by grace,
might count our former gain but dung and dross.
No place earth found thee where to lay thy head,
yet for earth's guilty ones thy precious blood was shed.
3. Thrice happy who thy chosen lot may share,
thrice blessed the guerdon it is theirs to claim;
worthy for thee reproach and shame to bear,
worthy to suffer for Emmanuel's name.
Rejected – 'tis by those who knew not thee;
mocked, by the blind, who e'en in Christ no beauty see.
4. Lord Jesus, let thine own sweet peace keep rule
within our hearts, that we thy will may prove.
Make us more ready learners in thy school,
steadfast lest aught of ill our spirits move.
Thine was a lowly path when here below;
thy pilgrim days were marked by want, and toil, and woe.
5. Let thy dear service be our heart's delight;
on thee be spent our spikenard-casket choice;
renew our strength throughout the weary fight,
nor let earth's tumult drown thy gracious voice.
Faithful to thee whilst thou art still away,
oh, let us watch to hail the first glad streak of day.
6. Yes, precious Lord, the moment draweth near,
when we no more in stranger-guise shall roam;
caught up to meet thee – past the desert drear –
the twinkling of an eye shall take us home.
Let us meanwhile in patience pass along,
sure of the crown, the palm, the victor's triumph-song!
Hannah K. Burlingham, Wayside Songs, 1901, 168-169.