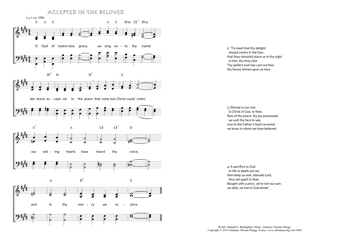 Christ My Song - 1066
O God of matchless grace - Accepted in the Beloved
(Hannah K. Burlingham/Johannes Thomas Rüegg)
Accepted in the Beloved.
1. O God of matchless grace,
we sing unto thy name!
We stand accepted in the place
that none but Christ could claim;
our willing hearts have heard thy voice,
and in thy mercy we rejoice. PDF - Midi
2. 'Tis meet that thy delight
should centre in the Son;
that thou shouldst place us in thy sight
in him, thy Holy One.
Thy perfect love hast cast out fear;
thy favour shines upon us here.
3. Eternal is our rest,
O Christ of God, in thee.
Now of thy peace, thy joy possessed,
we wait thy face to see;
now to the Father's heart received,
we know in whom we have believed.
4. A sacrifice to God
in life or death are we;
then keep us ever, blessèd Lord,
thus set apart to thee.
Bought with a price, we're not our own:
we died, we live to God alone!
Hannah K. Burlingham, Wayside Songs, 1901, 67-68.