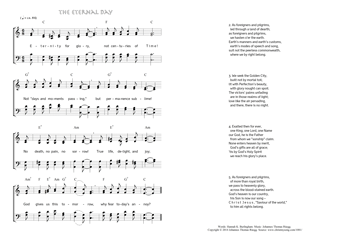 Christ My Song - 1081
Eternity for glory - The Eternal Day
(Hannah K. Burlingham/Johannes Thomas Rüegg)
The Eternal Day.
1. Eternity for glory,
not centuries of Time!
Not "days and moments passing,"
but permanence sublime!
No death, no pain, no sorrow!
True life, delight, and joy;
God gives us this tomorrow,
why fear today's annoy? PDF - Midi
2. As foreigners and pilgrims,
led through a land of dearth;
as foreigners and pilgrims,
we hasten o'er the earth.
Earth's manners and earth's customs,
earth's modes of speech and song,
suit not the peerless commonwealth,
where we by right belong.
3. We seek the Golden City,
built not by mortal toil;
lit with Perfection's beauty,
with glory nought can spoil.
The victors' palms unfading
are in those realms of light;
love like the air pervading,
and there, there is no night.
4. Exalted then for ever,
one King, one Lord, one Name
our God, he is the Father
from whom we "sonship" claim.
None enters heaven by merit,
God's gifts are all of grace;
'tis by God's Holy Spirit
we reach his glory's place.
5. As foreigners and pilgrims,
of more than royal birth,
we pass to heavenly glory,
across the blood-stained earth.
God's heaven is our country,
his Son is now our song –
Christ Jesus, "Saviour of the world,"
to him all rights belong.
Hannah K. Burlingham, Wayside Songs, 1901, 201-202. (This is probably the last of her hymns, dated at Tiverton, 7.30 a.m., January 3rd, 1890.)