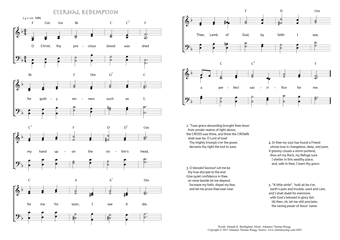 Christ My Song - 1082
O Christ, thy precious blood was shed - Eternal Redemption (Hannah K. Burlingham/Johannes Thomas Rüegg)
Eternal Redemption.
1. O Christ, thy precious blood was shed
for guilty sinners such as I;
my hand upon the victim's head,
for me 'tis slain, I see it die.
Thee, Lamb of God, by faith I see,
a perfect sacrifice for me. PDF - Midi
2. 'Twas grace abounding brought thee down
from yonder realms of light above;
the Cross was thine, and thine the Crown
shall ever be, O Lord of love!
Thy mighty triumph o'er the grave,
declares thy right the lost to save.
3. O blessèd Saviour! Let me be
thy true disciple to the end.
Give quiet confidence in thee,
on none beside let me depend.
Increase my faith, dispel my fear,
and let me prove thee ever near.
4. In thee my soul has found a Friend
whose love is changeless, deep, and pure;
if gloomy clouds a storm portend,
thou art my Rock, my Refuge sure.
I shelter in this wealthy place,
and, safe in thee, I learn thy grace.
5. "A little while", 'twill all be o'er,
earth's pain and trouble, want and care,
and I shall dwell for evermore,
with God's beloved in glory fair:
till then, oh, let me still proclaim,
the saving power of Jesus' name.
Hannah K. Burlingham, Wayside Songs, 1901, 184-185.