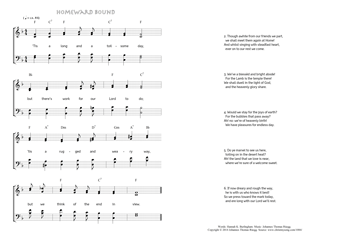 Christ My Song - 1084
'Tis a long and a toilsome day - Homeward Bound
(Hannah K. Burlingham/Johannes Thomas Rüegg)
Homeward Bound.
1. 'Tis a long and a toilsome day,
but there's work for our Lord to do;
'tis a rugged and weary way,
but we think of the end in view. PDF - Midi
2. Though awhile from our friends we part,
we shall meet them again at Home!
And whilst singing with steadfast heart,
ever on to our rest we come.
3. We've a blessèd and bright abode!
For the Lamb is the temple there!
We shall dwell in the light of God,
and the heavenly glory share.
4. Would we stay for the joys of earth?
For the bubbles that pass away?
Ah! no: we're of heavenly birth!
We have pleasures for endless day.
5. Do ye marvel to see us here,
toiling on in the desert heat?
Ah! the land that we love is near,
where we're sure of a welcome sweet.
6. If now dreary and rough the way,
he is with us who knows it best!
So we press toward the mark today,
and ere long with our Lord we'll rest.
Hannah K. Burlingham, Wayside Songs, 1901, 43-44.
(6,1: "now" added.)