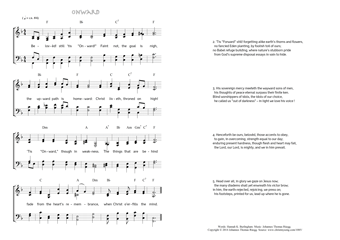 Christ My Song - 1085
Belovèd! still 'tis "Onward!" Faint not, the goal is nigh - Onward
(Hannah K. Burlingham/Johannes Thomas Rüegg)
Onward.
1. Belovèd! still 'tis "Onward!" Faint not, the goal is nigh,
the upward path is homeward: Christ liveth, throned on high!
'Tis "Onward," though in weakness. The things that are behind
fade from the heart's remembrance, when Christ o'er-fills the mind. PDF - Midi
2. 'Tis "Forward" still! forgetting alike earth's thorns and flowers,
no fancied Eden planting, by foolish toil of ours;
no Babel refuge building, where nature's stubborn pride
from God's supreme disposal essays in vain to hide.
3. His sovereign mercy meeteth the wayward sons of men,
his thoughts of peace eternal surpass their finite ken.
Blind worshippers of idols, the idols of our choice,
he called us "out of darkness" – in light we love his voice !
4. Henceforth be ours, belovèd, those accents to obey,
to gain, in overcoming, strength equal to our day;
enduring present hardness, though flesh and heart may fail,
the Lord, our Lord, is mighty, and we in him prevail.
5. Head over all, in glory we gaze on Jesus now;
the many diadems shall yet enwreath his victor brow;
in him, the earth-rejected, rejoicing, we press on;
his footsteps, printed for us, lead up where he is gone.
Hannah K. Burlingham, Wayside Songs, 1901, 30-31.