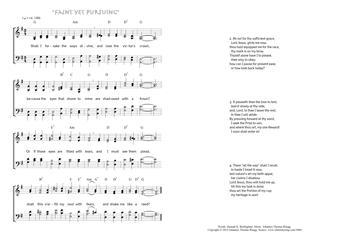 Christ My Song - 1086
Shall I forsake the ways divine - "Faint yet Pursuing"
(Hannah K. Burlingham/Johannes Thomas Rüegg)
"Faint yet Pursuing."
1. Shall I forsake the ways divine,
and lose the victor's crown,
because the eyes that shone to mine
are shadowed with a frown?
Or if those eyes are filled with tears,
and I must see them plead,
shall this o'erfill my soul with fears,
and shake me like a reed? PDF - Midi
2. Ah no! for thy sufficient grace,
Lord Jesus, girds me now;
thou hast equipped me for the race,
thy mark is on my brow.
Thyself alone have I to please,
thee only to obey;
how can I pause for present ease,
or how look back today?
3. It pleaseth thee the love to test,
learnt slowly at thy side;
and, Lord, to thee I leave the rest,
in thee I will abide.
By pressing forward at thy word,
I seek the Prize to win;
and where thou art, my one Reward!
I soon shall enter in!
4. There "all the way" shall I recall,
in haste I tread it now;
lest nature's art my faith appal,
her claims I disallow.
Lord Jesus, thou wilt hold me up,
till this my task is done;
thou art the Portion of my cup,
my heritage is won!
Hannah K. Burlingham, Wayside Songs, 1901, 130-131.