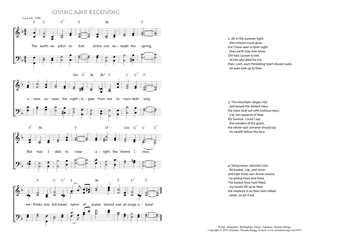 Christ My Song - 1087
The earthen pitcher frail - Giving and Receiving
(Hannah K. Burlingham/Johannes Thomas Rüegg)
Giving and Receiving.
"It is more blessed to give than to receive." (Acts 20,35)
1. The earthen pitcher frail
brims o'er beneath the spring;
alone, unseen, the nightingale
from eve to morn doth sing.
But had I skill to raise
aright the theme I love,
methinks one full-toned hymn of praise
should soar all songs above! PDF - Midi
2. All in the summer light,
the crimson roses glow;
but I have seen a fairer sight
than earth may ever know.
Oh! had I power to tell
of him who died for me,
then, Lord, each throbbing heart should swell,
all eyes look up to thee.
3. The mountain ranges rise,
and bound the distant view;
the stars look out with lustrous eyes,
o'er yon expanse of blue.
My Saviour, could I say
the wonders of thy grace,
the whole vast universe should lay
its wealth before thy face.
4. Stoop down, belovèd Lord,
fill basket, cup, and store;
and take thine own divine reward,
by giving more and more.
The basket thou hast filled,
my hands lift up to thee;
the measure is as thou hast willed:
amen, so let it be!
Hannah K. Burlingham, Wayside Songs, 1901, 171-172.