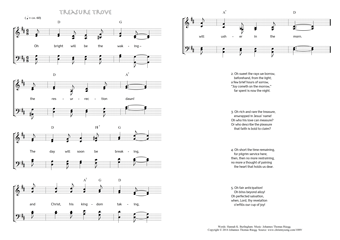 Christ My Song - 1089
Oh bright will be the waking - Treasure Trove
(Hannah K. Burlingham/Johannes Thomas Rüegg)
Treasure Trove.
"Yea, durable riches." (Proverbs 8)
1. Oh bright will be the waking –
the resurrection dawn!
The day will soon be breaking,
and Christ, his kingdom taking,
will usher in the morn. PDF - Midi
2. Oh sweet the rays we borrow,
beforehand, from the light;
a few brief hours of sorrow,
"Joy cometh on the morrow,"
far spent is now the night.
3. Oh rich and rare the treasure,
enwrapped in Jesus' name!
Oh who his love can measure?
Or who describe the pleasure
that faith is bold to claim?
4. Oh short the time remaining,
for pilgrim service here;
then, then no more restraining,
no more a thought of paining
the heart that holds us dear.
5. Oh fair anticipation!
Oh bliss beyond alloy!
Oh perfected salvation,
when, Lord, thy revelation
o'erfills our cup of joy!
Hannah K. Burlingham, Wayside Songs, 1901, 148-149.