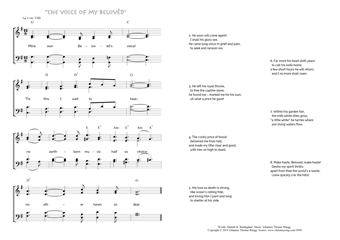 Christ My Song - 1090
Mine own Belovèd's voice! - "The voice of my Belovèd"
(Hannah K. Burlingham/Johannes Thomas Rüegg)
"The voice of my Belovèd."
(Song of Solomon 8,13-14)
1. Mine own Belovèd's voice!
'Tis this I wait to hear;
no earthborn music half so choice,
no other tones so dear. PDF - Midi
2. He soon will come again!
I shall his glory see.
He came long since in grief and pain,
to seek and ransom me.
3. He left his royal throne,
to free the captive slave;
he found me – marked me for his own:
oh what a price he gave!
4. The costly price of blood
delivered me from hell;
and made my title clear and good,
with him on high to dwell.
5. His love as death is strong,
like ocean's rolling tide;
and loving him I pant and long
to shelter at his side.
6. Far more his heart doth yearn
to call his exile home;
a few short hours he will return,
and I no more shall roam.
7. Within his garden fair,
the milk-white lilies grow;
"a little while" he tarries where
yon living waters flow.
8. Make haste, Beloved, make haste!
Desire my spirit thrills:
apart from thee the world's a waste,
come quickly o'er the hills!
Hannah K. Burlingham, Wayside Songs, 1901, 162-163.