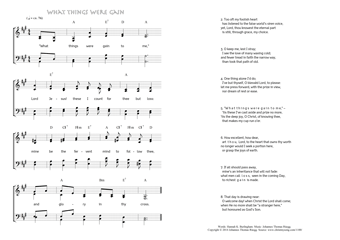 Christ My Song - 1100
"What things were gain to me" - What things were gain
(Hannah K. Burlingham/Johannes Thomas Rüegg)
What things were gain.
(Philippians 3,7-14.)
1. "What things were gain to me,"
Lord Jesus ! these I count for thee but loss:
mine be the fervent mind to follow thee,
and glory in thy cross. PDF - Midi
2. Too oft my foolish heart
has listened to the false world's siren voice,
yet, Lord, thou knowest the eternal part
is still, through grace, my choice.
3. O keep me, lest I stray;
I see the love of many waxing cold;
and fewer tread in faith the narrow way,
than took that path of old.
4. One thing alone I'd do;
I've but thyself, O blessèd Lord, to please:
let me press forward, with the prize in view,
nor dream of rest or ease.
5. "What things were gain to me," –
'tis these I've cast aside and prize no more,
'tis the deep joy, O Christ, of knowing thee,
that makes my cup run o'er.
6. How excellent, how dear,
art thou, Lord, to the heart that owns thy worth
no longer would I seek a portion here,
or grasp the joys of earth.
7. If all should pass away,
mine's an inheritance that will not fade:
what men call loss, seen in the coming Day,
to richest gain is made.
8. That day is drawing near:
O welcome day! when Christ the Lord shall come;
when He no more shall be "a stranger here,"
but honoured as God's Son.
Hannah K. Burlingham, Wayside Songs, 1901, 114-115.