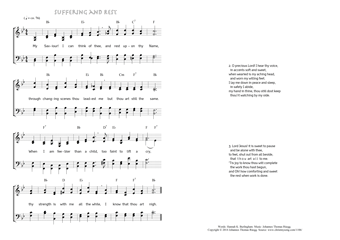 Christ My Song - 1106
My Saviour! I can think of thee - Suffering and Rest
(Hannah K. Burlingham/Johannes Thomas Rüegg)
Suffering and Rest.
1. My Saviour! I can think of thee,
and rest upon thy Name,
through changing scenes thou leadest me
but thou art still the same.
When I am feebler than a child,
too faint to lift a cry,
thy strength is with me all the while,
I know that thou art nigh. PDF - Midi
2. O precious Lord! I hear thy voice,
in accents soft and sweet,
when wearied is my aching head,
and worn my willing feet.
I lay me down in peace and sleep,
in safety I abide,
my hand in thine, thou still dost keep
thou'rt watching by my side.
3. Lord Jesus! it is sweet to pause
and be alone with thee,
to feel, shut out from all beside,
that thou art all to me.
'Tis joy to know thou wilt complete
the work thou hast begun,
and Oh! how comforting and sweet
the rest when work is done.
Hannah K. Burlingham, Wayside Songs, 1901, 14-15.