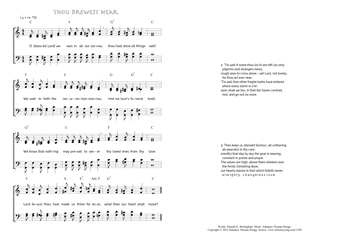 Christ My Song - 1109
O blessèd Lord! we own in all our sorrow - Thou drewest near
(Hannah K. Burlingham/Johannes Thomas Rüegg)
Thou drewest near.
"Thou drewest near in the day that I called upon thee:
thou saidst, Fear not.
O Lord, thou hast pleaded the causes of my soul,
thou hast redeemed my life."
(Lamentations 3,57-58)
1. O blessèd Lord! we own in all our sorrow,
thou hast done all things well!
We wait in faith the resurrection morrow,
'mid nature's funeral knell.
We know that nothing may prevail to sever
thy loved ones from thy love:
Lord Jesus! thou hast made us thine for ever,
what then our heart shall move? PDF - Midi
2. 'Tis well if some thou lov'st are left (as only
pilgrims and strangers here),
rough seas to cross alone – yet Lord, not lonely,
for thou art ever near.
'Tis well that other fragile barks have entered
where every storm is o'er:
soon shall we too, in that fair haven centred,
rest, and go out no more.
3. Then keep us, blessèd Saviour, all-unfearing,
all-peaceful in thy care;
mindful that day by day the goal is nearing,
constant in praise and prayer.
The waves are high; above them shelters ever
the timid, trembling dove;
our hearts repose in that which faileth never,
almighty, changeless love.
Hannah K. Burlingham, Wayside Songs, 1901, 104-105.