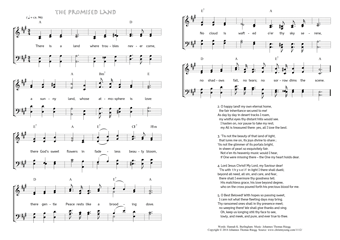 Christ My Song - 1112
There is a land where troubles never come - The Promised Land
(Hannah K. Burlingham/Johannes Thomas Rüegg)
The Promised Land.
"Thine eyes shall see the King in his beauty:
they shall behold the land that is very far off."
(Isaiah 33,17)
1. There is a land where troubles never come,
a sunny land, whose atmosphere is love:
there God's sweet flowers in fadeless beauty bloom,
there gentle Peace rests like a brooding dove.
No cloud is wafted o'er thy sky serene,
no shadows fall, no tears; no sorrow dims the scene. PDF - Midi
2. O happy land! my own eternal home,
the fair inheritance secured to me!
As day by day in desert tracks I roam,
my wistful eyes thy distant hills would see.
I hasten on, nor pause to take my rest;
my All is treasured there: yes, all I love the best.
3. 'Tis not the beauty of that land of light,
that lures me on, its joys divine to share ;
'tis not the glimmer of its portals bright,
in sheen of pearl so exquisitely fair.
Not e'en its heavenly music would I hear,
if One were missing there – the One my heart holds dear.
4. Lord Jesus Christ! My Lord, my Saviour dear!
'Tis with thyself in light I there shall dwell;
beyond all need, all sin, and care, and fear,
there shall I evermore thy goodness tell.
His matchless grace, his love beyond degree,
who on the cross poured forth his precious blood for me.
5. O Best Beloved! With hopes so passing sweet,
I care not what these fleeting days may bring.
Thy ransomed ones shall in thy presence meet;
no weeping there! We shall give thanks and sing.
Oh, keep us longing still thy face to see,
lowly, and meek, and pure, and ever true to thee.
Hannah K. Burlingham, Wayside Songs, 1901, 173-174.