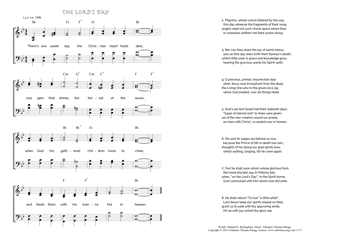 Christ My Song - 1117
There's one sweet day the Christian heart holds dear - The Lord's Day (Hannah K. Burlingham/Johannes Thomas Rüegg)
The Lord's Day.
1. There's one sweet day the Christian heart holds dear,
one gem that shines the fairest of the seven,
when God his gathered children loves to cheer,
and feeds them with his manna hid in heaven. PDF - Midi
2. Pilgrims, whose voices faltered by the way,
this day rehearse the fragments of their song;
angels need not such choral space where they
in ceaseless anthem roll their praise along.
3. Nor can they share the joy of saints below,
who on this day shew forth their Saviour's death;
whilst little ones in grace and knowledge grow,
hearing the gracious words his Spirit saith.
4. O precious, primal, resurrection day!
when Jesus rose triumphant from the dead,
the Living One who in the grave once lay,
whom God exalted, over all things Head.
5. God's ancient Israel had their Sabbath days;
"types of eternal rest" to them were given:
we of the new creation sound our praise,
as risen with Christ, co-seated now in heaven.
6. Sin and its wages are behind us now,
because the Prince of life in death has lain;
thoughts of his dying our glad spirits bow,
whilst waiting, longing, till he come again.
7. Yes! he shall soon return whose glorious form
the loved disciple saw in Patmos Isle,
when, "on the Lord's Day", in the Spirit borne,
God communed with him whom man did exile.
8. He shall return! 'Tis but "a little while".
Lord Jesus! keep our spirits stayed on thee;
grant us to walk with thy approving smile,
till we with joy untold thy glory see.
Hannah K. Burlingham, Wayside Songs, 1901, 91-92.