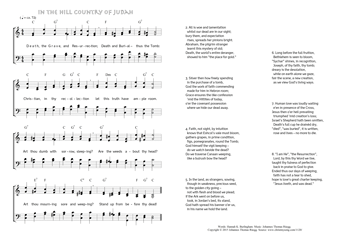 Christ My Song - 1120
Death, the Grave, and Resurrection - In the Hill Country of Judah
(Hannah K. Burlingham/Johannes Thomas Rüegg)
In the Hill Country of Judah.
Genesis 23.
1. Death, the Grave, and Resurrection;
Death and Burial – thus the Tomb:
Christian, in thy recollection
let this truth have ample room.
Art thou dumb with sorrow, sleeping?
Are the weeds about thy head?
Art thou mourning sore and weeping?
Stand up from before thy dead! PDF - Midi
2. All is woe and lamentation
whilst our dead are in our sight;
bury them, and expectation
rises, spreads her pinions bright.
Abraham, the pilgrim stranger
learnt this mystery of old;
Death, the world's entire deranger,
showed to him "the place for gold."
3. Silver then how freely spending
in the purchase of a tomb,
God the work of faith commending
made for him in Hebron room;
Grace ensures the like confession
'mid the Hittites of today,
o'er the covenant possession
where we hide our dead away.
4. Faith, not sight, by intuition
knows that Eshcol's vale must bloom,
gathers grapes, in prime condition,
figs, pomegranates, round the Tomb;
God himself the vigil keeping –
do we watch beside the dead?
Do we traverse Canaan weeping,
like a bulrush bow the head?
5. In the land, as strangers, sowing,
though in weakness, precious seed,
to the golden city going –
not with flesh and blood we plead;
if the Ark went on before us,
took, in Jordan's bed, its stand,
God hath spread his banner o'er us,
in his name we hold the land.
6. Long before the full fruition,
Bethlehem is seen to bloom,
"Sychar" shines, in recognition,
Joseph, of thy faith, thy tomb;
dreary is the desolation,
while on earth alone we gaze,
fair the scene, a new creation,
as we view God's living ways.
7. Human love was loudly wailing
e'en in presence of the Cross,
Jesus then o'er hell prevailing
triumphed 'mid creation's loss;
Israel's Shepherd hath been smitten,
Death's full cup he drainèd dry,
"died", "was buried", it is written,
rose and lives – no more to die.
8. "I am He", "the Resurrection",
Lord, by this thy Word we live,
taught thy fulness of perfection
back in praise to God to give.
Ended thus our days of weeping,
faith has not a tear to shed,
hope is love's great charter keeping,
"Jesus liveth, and was dead."
(2,8: Job 28.)
Hannah K. Burlingham, Wayside Songs, 1901, 31-34.