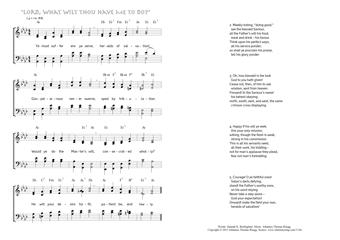 Christ My Song - 1126
Ye must suffer ere ye serve - "Lord, what wilt Thou have Me to Do?" (Hannah K. Burlingham/Johannes Thomas Rüegg)
"Lord, what wilt Thou have Me to Do?"
"I will show him how great things he must suffer for my name's sake." (Acts 9,16)
1. Ye must suffer ere ye serve,
heralds of salvation!
Gospel-arrows never swerve,
sped by tribulation.
Would ye do the Master's will,
consecrated wholly?
He will your desire fulfil;
patient be, and lowly. PDF - Midi
2. Meekly toiling, "doing good,"
see the blessèd Saviour,
all the Father's will his food,
meat and drink – his favour.
Think upon his perfect ways,
all his service ponder;
so shall ye proclaim his praise,
tell his glory yonder.
3. Oh, how blessèd is the task
God to you hath given!
Cease not, then, of him to ask
wisdom, sent from heaven.
Forward! In the Saviour's name!
his behest obeying,
north, south, east, and west, the same
crimson cross displaying.
4. Happy if his will ye seek,
this your only mission;
willing, though the flesh is weak,
strong in his commission.
This is all his servants need,
all their work, his bidding –
not for man's applause they plead,
fear not man's forbidding.
5. Courage! O ye faithful ones!
Satan's darts defying;
stand! the Father's worthy sons,
on his word relying.
Never take a step alone –
God your expectation!
Onward! make the field your own,
heralds of salvation!
Hannah K. Burlingham, Wayside Songs, 1901, 178-180.