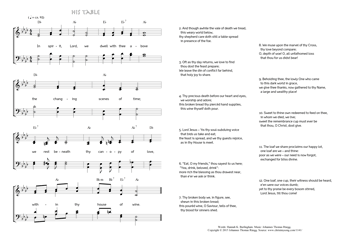 Christ My Song - 1141
In spirit, Lord, we dwell with thee above - His Table
(Hannah K. Burlingham/Johannes Thomas Rüegg)
His Table.
"For as often as ye eat this bread and drink this cup,
ye do shew the Lord's death until he come."
(1 Corinthians 11,26)
1. In spirit, Lord, we dwell with thee above
the changing scenes of time;
we rest beneath thy canopy of love,
within thy house of wine. PDF - Midi
2. And though awhile the vale of death we tread,
this weary world below,
thy shepherd care doth still a table spread
in presence of the foe.
3. Oft as thy day returns, we love to find
thou dost the feast prepare;
We leave the din of conflict far behind,
that holy joy to share.
4. Thy precious death before our heart and eyes,
we worship and adore;
this broken bread thy piercèd hand supplies,
this wine thyself doth pour.
5. Lord Jesus – 'tis thy soul-subduing voice
that bids us take and eat;
the feast is spread, and we thy guests rejoice,
as in thy House is meet.
6. "Eat, O my friends," thou sayest to us here;
"Yea, drink, beloved, drink":
more rich the blessing as thou drawest near,
than e'er we ask or think.
7. Thy broken body we, in figure, see,
shewn in this broken bread;
this poured wine, O Saviour, tells of thee,
thy blood for sinners shed.
8. We muse upon the marvel of thy Cross,
thy love beyond compare;
O, depth of woe! O, all unfathomed loss
that thou for us didst bear!
9. Beholding thee, the lowly One who came
to this dark world in grace,
we give thee thanks, now gathered to thy Name,
a large and wealthy place!
10. Sweet to thine own redeemed to feed on thee,
in whom we died, we live;
sweet the remembrance cup must ever be
that thou, O Christ, dost give.
11. The loaf we share proclaims our happy lot,
one loaf are we – and thine:
poor as we were – our need is now forgot,
exchanged for bliss divine.
12. One loaf, one cup, their witness should be heard,
e'en were our voices dumb;
yet to thy praise be every bosom stirred,
Lord Jesus, till thou come!
Hannah K. Burlingham, Wayside Songs, 1901, 72-74.