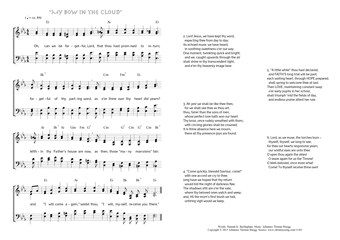 Christ My Song - 1144
Oh, can we be forgetful, Lord - "My Bow in the Cloud"
(Hannah K. Burlingham/Johannes Thomas Rüegg)
"My Bow in the Cloud."
John 14,1-3.
1. Oh, can we be forgetful, Lord,
that thou hast promised to return;
forgetful of thy parting word,
as o'er thine own thy heart did yearn?
Within thy Father's house are now,
as then, those "many mansions" fair;
and "I will come again," saidst thou,
"I will, myself, receive you there." PDF - Midi
2. Lord Jesus, we have kept thy word,
expecting thee from day to day;
its echoed music we have heard,
in soothing sweetness o'er our way.
One moment, twinkling quick and bright,
and we, caught upwards through the air
shall shine in thy transcendent light,
and e'en thy heavenly image bear.
3. Ah yes! we shall be like thee then,
for we shall see thee as thou art,
thou, fairer than the sons of men,
whose perfect love hath won our heart
Thy brow, once rudely wreathed with thorn,
with circling glories shall be crowned;
it is thine absence here we mourn,
there all thy presence-joys are found.
4. "Come quickly, blessèd Saviour, come!"
with one accord we cry to thee;
long have we hoped that thy return
would bid the night of darkness flee.
The shadows still are o'er the vale,
where thy beloved ones watch and weep;
and, till the morn's first blush we hail,
untiring vigil would we keep.
5. "A little while" thou hast declared,
and Faith's long trial will be past;
each waiting heart, through Hope prepared,
shall spring to welcome thee at last.
Then Love, maintaining constant sway
o'er early pupils in her school,
shall triumph 'mid the fields of day,
and endless praise attest her rule.
6. Lord, as we muse, the torches burn –
thyself, thyself, we long to see;
for thee our hearts responsive yearn,
our wistful eyes are unto thee.
O open thou again the skies!
O leave again for us the Throne!
O Well-beloved, once more arise!
Come! To thyself receive thine own!
Hannah K. Burlingham, Wayside Songs, 1901, 185-187.