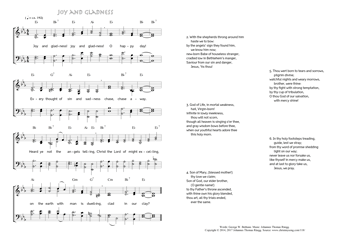 Christ My Song - 118
Joy and gladness! joy and gladness!
(George W. Bethune/Johannes Thomas Rüegg)
Joy and gladness.
1. Joy and gladness! joy and gladness!
O happy day!
Every thought of sin and sadness
chase, chase away.
Heard ye not the angels telling,
Christ the Lord of might excelling,
on the earth with man is dwelling,
clad in our clay? PDF - Midi
2. With the shepherds throng around him
haste we to bow:
by the angels' sign they found him,
we know him now;
new-born Babe of houseless stranger,
cradled low in Bethlehem's manger,
Saviour from our sin and danger,
Jesus, 'tis thou!
3. God of Life, in mortal weakness,
hail, Virgin-born!
infinite in lowly meekness,
thou wilt not scorn,
though all heaven is singing o'er thee,
and gray wisdom bows before thee,
when our youthful hearts adore thee
this holy morn.
4. Son of Mary, (blessed mother!)
thy love we claim;
Son of God, our elder brother,
(O gentle name!)
to thy Father's throne ascended,
with thine own his glory blended,
thou art, all thy trials ended,
ever the same.
5. Thou wert born to tears and sorrows,
pilgrim divine;
watchful nights and weary morrows,
brother, were thine:
by thy fight with strong temptation,
by thy cup of tribulation,
O thou God of our salvation,
with mercy shine!
6. In thy holy footsteps treading,
guide, lest we stray;
from thy word of promise shedding
light on our way;
never leave us nor forsake us,
like thyself in mercy make us,
and at last to glory take us,
Jesus, we pray.
George W. Bethune, in: Philip Schaff: Christ in Song, 1870, 65-66.