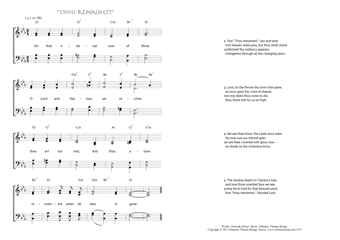 Christ My Song - 1197
On that eternal love of thine - "Thou remainest"
(Gertrude Helyar/Johannes Thomas Rüegg)
"Thou remainest."
"There remaineth therefore a rest to the people of God."
1. On that eternal love of thine,
O Lord and Saviour, we recline;
thou art our rest, and thou alone
remainest when all else is gone. PDF - Midi
2. Yes! "Thou remainest;" sea and land,
e'en heaven shall pass, but thou shalt stand,
undimmed thy radiancy appears,
changeless through all the changing years.
3. Lord, on the throne thy love's the same,
as once upon thy cross of shame;
not only didst thou come to die,
thou livest still for us on high.
4. We see thee there, the Lamb once slain,
thy loss was our eternal gain;
we see thee crowned with glory now –
no shade on thy victorious brow.
5. The shadow dwelt on Calvary's tree,
and now thine unveiled face we see;
praise be to God for that blessed word,
that "thou remainest," blessèd Lord.
Gertrude Helyar, in: E. E. Cornwall, Songs of Pilgrimage and Glory 2, 89-90.