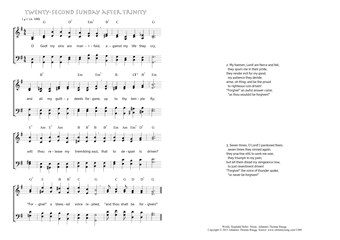 Christ My Song - 1200
O God! my sins are manifold, against my life they cry -
Twenty-second Sunday after Trinity
(Reginald Heber/Johannes Thomas Rüegg)
Twenty-second Sunday after Trinity.
1. O God! my sins are manifold,
against my life they cry,
and all my guilty deeds forgone,
up to thy temple fly;
wilt thou release my trembling soul,
that to despair is driven?
"Forgive!" a blessed voice replied,
"and thou shalt be forgiven!" PDF - Midi
2. My foemen, Lord! are fierce and fell,
they spurn me in their pride,
they render evil for my good,
my patience they deride;
arise, oh King; and be the proud
to righteous ruin driven!
"Forgive!" an awful answer came,
"as thou wouldst be forgiven!"
3. Seven times, O Lord! I pardoned them,
seven times they sinned again;
they practise still to work me woe,
they triumph in my pain;
but let them dread my vengeance now,
to just resentment driven!
"Forgive!" the voice of thunder spake,
"or never be forgiven!"
Reginald Heber, Heber's Hymns, 1870, 73.