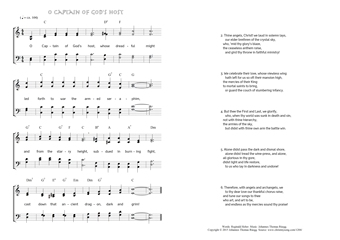 Christ My Song - 1204
O Captain of God's host
(Reginald Heber/Johannes Thomas Rüegg)
O Captain of God's host.
1. O Captain of God's host, whose dreadful might
led forth to war the armed seraphim,
and from the starry height,
subdued in burning fight,
cast down that ancient dragon, dark and grim! PDF - Midi
2. Thine angels, Christ! we laud in solemn lays,
our elder brethren of the crystal sky,
who, 'mid thy glory's blaze,
the ceaseless anthem raise,
and gird thy throne in faithful ministry!
3. We celebrate their love, whose viewless wing
hath left for us so oft their mansion high,
the mercies of their King
to mortal saints to bring,
or guard the couch of slumbering infancy.
4. But thee the First and Last, we glorify,
who, when thy world was sunk in death and sin,
not with thine hierarchy,
the armies of the sky,
but didst with thine own arm the battle win.
5. Alone didst pass the dark and dismal shore,
alone didst tread the wine-press, and alone,
all glorious in thy gore,
didst light and life restore,
to us who lay in darkness and undone!
6. Therefore, with angels and archangels, we
to thy dear love our thankful chorus raise,
and tune our songs to thee
who art, and art. to be,
and endless as thy mercies sound thy praise!
Reginald Heber, Heber's Hymns, 1870, 77-78. (Original title: Michaelmas Day.)