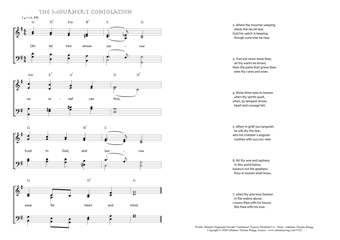 Christ My Song - 1522
Oh! let him whose sorrow - The Mourner's Consolation
(Heinrich Siegmund Oswald/Frances Elizabeth Cox/
Johannes Thomas Rüegg)
The Mourner's Consolation.
"Our light affliction, which is but for a moment,
worketh for us a far more exceeding and
eternal weight of glory." (2 Corinthians 4,17)
1. Oh! let him whose sorrow
no relief can find,
trust in God, and borrow
ease for heart and mind. PDF - Midi
2. Where the mourner weeping
sheds the secret tear,
God his watch is keeping,
though none else be near.
3. God will never leave thee,
all thy wants he knows,
feels the pains that grieve thee,
sees thy cares and woes.
4. Raise thine eyes to heaven
when thy spirits quail,
when, by tempest driven,
heart and courage fail.
5. When in grief you languish,
he will dry the tear,
who his children's anguish
soothes with succour near.
6. All thy woe and sadness
in this world below,
balance not the gladness
thou in heaven shalt know,
7. when thy gracious Saviour,
in the realms above,
crowns thee with his favour,
fills thee with his love.
Frances Elizabeth Cox, Hymns from the German, 1864, 189+191.
Translated from the German Wem in Leidenstagen - Trost des Trauernden
of Heinrich Siegmund Oswald.