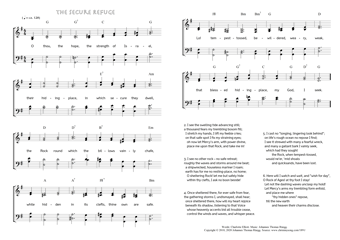 Christ My Song - 1891
O thou, the hope, the strength of Israel - The Secure Refuge
(Charlotte Elliott/Johannes Thomas Rüegg)
The Secure Refuge.
"Lead me to the Rock that is higher than I." (Psalm 61,2)
1. O thou, the hope, the strength of Israel,
their hiding-place, in which secure they dwell,
the Rock round which the billows vainly chafe,
while hidden in its clefts, thine own are safe.
Lo! tempest-tossed, bewildered, weary, weak,
that blessed hiding-place, my God, I seek. PDF - Midi
2. I see the swelling tide advancing still;
a thousand fears my trembling bosom fill;
I stretch my hands, I lift my feeble cries;
on that safe spot I fix my straining eyes;
oh now let Mercy's arm, with power divine,
place me upon that Rock, and take me in!
3. I see no other rock – no safe retreat;
roughly the waves and storms around me beat;
a shipwrecked, houseless mariner I roam;
earth has for me no resting-place, no home;
O sheltering Rock! let me but safely hide
within thy clefts, I ask no boon beside!
4. Once sheltered there, for ever safe from fear,
the gathering storms I, undismayed, shall hear;
once sheltered there, how will my heart rejoice
beneath its shadow, listening to that Voice
whose heavenly accents bid all trouble cease,
control the winds and waves, and whisper peace.
5. I cast no "longing, lingering look behind";
on life's rough ocean no repose I find;
I see it strewed with many a fearful wreck,
and many a gallant bark I vainly seek,
which had they sought the Rock, when tempest-tossed,
would ne'er, 'mid shoals and quicksands, have been lost.
6. Here will I watch and wait, and "wish for day",
O Rock of Ages! at thy foot I stay!
Let not the dashing waves unclasp my hold!
Let Mercy's arms my trembling form enfold,
and place me where "thy hidden ones" repose,
till the new earth and heaven their charms disclose.
Charlotte Elliott, Selections from the Poems of Charlotte Elliott, 64-65.