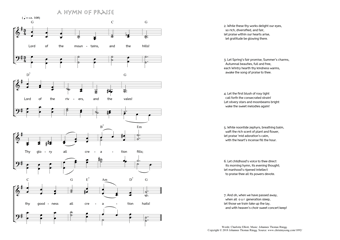 Christ My Song - 1892
Lord of the mountains, and the hills! - A Hymn of Praise
(Charlotte Elliott/Johannes Thomas Rüegg)
A Hymn of Praise.
1. Lord of the mountains, and the hills!
Lord of the rivers, and the vales!
Thy glory all creation fills;
thy goodness all creation hails! PDF - Midi
2. While these thy works delight our eyes,
so rich, diversified, and fair,
let praise within our hearts arise,
let gratitude be glowing there.
3. Let Spring's fair promise, Summer's charms,
Autumnal beauties, full and free,
each Wintry hearth thy kindness warms,
awake the song of praise to thee.
4. Let the first blush of rosy light
call forth the consecrated strain!
Let silvery stars and moonbeams bright
wake the sweet melodies again!
5. While noontide zephyrs, breathing balm,
waft the rich scent of plant and flower,
let praise 'mid adoration's calm,
with the heart's incense fill the hour.
6. Let childhood's voice to thee direct
its morning hymn, its evening thought;
let manhood's ripened intellect
to praise thee all its powers devote.
7. And oh, when we have passed away,
when all our generation sleep,
let those we train take up the lay,
and with heaven's choir sweet concert keep!
Charlotte Elliott, Selections from the Poems of Charlotte Elliott, 75-76.