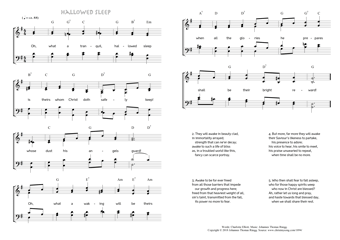 Christ My Song - 1894
Oh, what a tranquil, hallowed sleep - Hallowed sleep
(Charlotte Elliott/Johannes Thomas Rüegg)
Hallowed Sleep.
1. Oh, what a tranquil, hallowed sleep
is theirs whom Christ doth safely keep!
whose dust his angels guard!
Oh, what a waking will be theirs
when all the glories he prepares
shall be their bright reward! PDF - Midi
2. They will awake in beauty clad,
in immortality arrayed;
strength that can ne'er decay;
awake to such a life of bliss
as, in a troubled world like this,
fancy can scarce portray.
3. Awake to be for ever freed
from all those barriers that impede
our growth and progress here;
freed from that heaviest weight of all,
sin's taint, transmitted from the fall,
its power no more to fear.
4. But more, far more they will awake
their Saviour's likeness to partake,
his presence to adore;
his voice to hear, his smile to meet,
his praise unwearied to repeat,
when time shall be no more.
5. Who then shall fear to fall asleep,
who for those happy spirits weep
who now in Christ are blessed?
Ah, rather let us long and pray,
and haste towards that blessed day,
when we shall share their rest.
Charlotte Elliott, Selections from the Poems of Charlotte Elliott, 120-121.