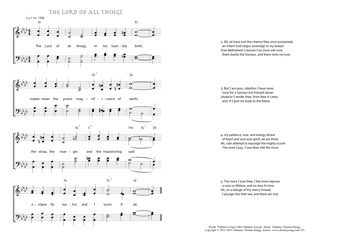 Christ My Song - 195
The Lord of all things, in his humble birth
(Madame Guyon/William Cowper/Johannes Thomas Rüegg)
The Lord of All Things.
1. The Lord of all things, in his humble birth,
makes mean the proud magnificence of earth;
the straw, the manger, and the mouldering wall
eclipse its lustre; and I scorn it all. PDF - Midi
2. All, all have lost the charms they once possessed;
an infant God reigns sovereign in my breast:
from Bethlehem's bosom I no more will rove;
there dwells the Saviour, and there rests my love.
3. But I am poor, oblation I have none,
none for a Saviour but himself alone:
whate'er I render thee, from thee it came;
and, if I give my body to the flame,
4. my patience, love, and energy divine
of heart and soul and spirit, all are thine.
Ah, vain attempt to expunge the mighty score!
The more I pay, I owe thee still the more.
5. The more I love thee, I the more reprove
a soul so lifeless, and so slow to love;
till, on a deluge of thy mercy tossed,
I plunge into that sea, and there am lost.
William Cowper, in: Schaff, Philip: Christ in Song, 1870, 488; after the French of Madame Guyon:
select lines from her poem on the "Nativity", arranged in stanzas by Philip Schaff.