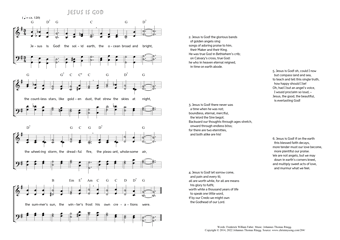 Christ My Song - 204
Jesus is God! the solid earth - Jesus is God
(Frederick William Faber/Johannes Thomas Rüegg)
Jesus is God.
1. Jesus is God! the solid earth,
the ocean broad and bright,
the countless stars, like golden dust,
that strew the skies at night,
the wheeling storm, the dreadful fire,
the pleasant, wholesome air,
the summer's sun, the winter's frost
his own creations were. PDF - Midi
2. Jesus is God! the glorious bands
of golden angels sing
songs of adoring praise to him,
their Maker and their King.
He was true God in Bethlehem's crib;
on Calvary's cross, true God:
he who in heaven eternal reigned,
in time on earth abode.
3. Jesus is God! there never was
a time when he was not;
boundless, eternal, merciful,
the Word the Sire begot.
Backward our thoughts through ages stretch,
onward through endless bliss;
for there are two eternities,
and both alike are his!
4. Jesus is God! let sorrow come,
and pain and every ill;
all are worth while, for all are means
his glory to fulfil;
worth while a thousand years of life
to speak one little word,
if by our Credo we might own
the Godhead of our Lord.
5. Jesus is God! oh, could I now
but compass land and sea,
to teach and tell this single truth,
how happy should I be!
Oh, had I but an angel's voice,
I would proclaim so loud, –
Jesus, the good, the beautiful,
is everlasting God!
6. Jesus is God! if on the earth
this blessed faith decays,
more tender must our love become,
more plentiful our praise.
We are not angels, but we may
down in earth's corners kneel,
and multiply sweet acts of love,
and murmur what we feel.
Frederick William Faber, in: Schaff, Philip: Christ in Song, 1870, 278-279.