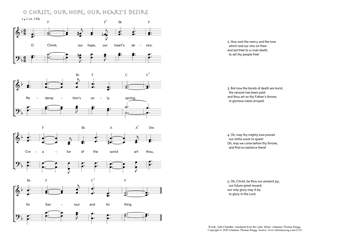 Christ My Song - 2116
O Christ, our hope, our heart's desire
(John Chandler/Johannes Thomas Rüegg)
O Christ, our hope, our heart's desire.
1. O Christ, our hope, our heart's desire,
Redemption's only spring;
Creator of the world art thou,
its Saviour and its King. PDF - Midi
2. How vast the mercy and the love
which laid our sins on thee:
and led thee to a cruel death,
to set thy people free!
3. But now the bonds of death are burst,
the ransom has been paid:
and thou art on thy Father's throne,
in glorious robes arrayed.
4. Oh, may thy mighty love prevail
our sinful souls to spare!
Oh, may we come before thy throne,
and find acceptance there!
5. Oh, Christ, be thou our present joy,
our future great reward;
our only glory may it be,
to glory in the Lord.
Amen.
John Chandler, The Hymns of the Primitive Church, 1837, 83-84.
Translated from the Latin Jesu, nostra redemptio.