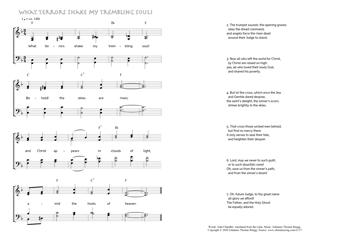 Christ My Song - 2117
What terrors shake my trembling soul!
(John Chandler/Johannes Thomas Rüegg)
What terrors shake my trembling soul!
1. What terrors shake my trembling soul!
Behold! the skies are riven;
and Christ appears in clouds of light,
amid the hosts of heaven. PDF - Midi
2. The trumpet sounds: the opening graves
obey the dread command;
and angels force the risen dead
around their Judge to stand.
3. Now all who left the world for Christ,
by Christ are raised on high:
yea, all who loved their lowly God,
and shared his poverty.
4. But lo! the cross, which once the Jew
and Gentile dared despise,
the saint's delight, the sinner's scorn,
shines brightly in the skies.
5. That cross those wicked men behold,
but find no mercy there:
it only serves to seal their fate,
and heighten their despair.
6. Lord, may we never to such guilt,
or to such downfall come!
Oh, save us from the sinner's path,
and from the sinner's doom!
7. Oh, future Judge, to thy great name
all glory we afford!
The Father, and the Holy Ghost
be equally adored.
John Chandler, The Hymns of the Primitive Church, 1837, 85-86.
Translated from the Latin Sensus quis horror percutit?.