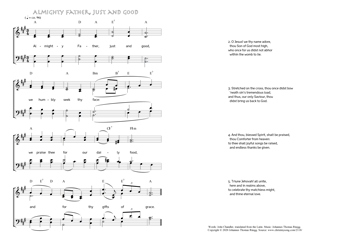 Christ My Song - 2118
Almighty Father, just and good
(John Chandler/Johannes Thomas Rüegg)
Almighty Father, just and good.
1. Almighty Father, just and good,
we humbly seek thy face:
we praise thee for our daily food,
and for thy gifts of grace. PDF - Midi
2. O Jesus! we thy name adore,
thou Son of God most high,
who once for us didst not abhor
within the womb to lie.
3. Stretched on the cross, thou once didst bow
'neath sin's tremendous load,
and thus, our only Saviour, thou
didst bring us back to God.
4. And thou, blessed Spirit, shalt be praised,
thou Comforter from heaven:
to thee shall joyful songs be raised,
and endless thanks be given.
5. Triune Jehovah! all unite,
here and in realms above,
to celebrate thy matchless might,
and thine eternal love.
John Chandler, The Hymns of the Primitive Church, 1837, 124-125.
Translated from the Latin Te Deum Patrem colimus.