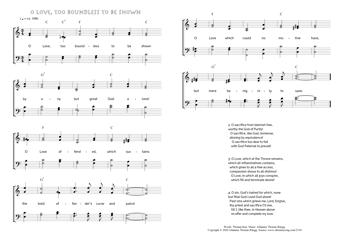 Christ My Song - 2156
O Love, too boundless to be shown
(Thomas Ken/Johannes Thomas Rüegg)
O Love, too boundless to be shown.
1. O Love, too boundless to be shown
by any but great God alone!
O Love offended, which sustains
the bold offender's curse and pains!
O Love which could no motive have,
but mere benignity to save. PDF - Midi
2. O sacrifice from blemish free,
worthy the God of Purity!
O sacrifice, like God, immense,
atoning by equivalence!
O sacrifice too dear to fail
with God Paternal to prevail!
3. O Love, which at the Throne remains,
which all inflammatives contains,
which gives to all a free access,
compassion shows to all distress!
O Love, in which all joys conspire,
which fill and terminate desire!
4. O sin, God's hatred for which, none
but filial God could God atone!
Past sins which grieve me, Lord, forgive,
thy priest and sacrifice I'll live,
till I, like thee, in Heaven above
re-offer and complete my love.
Thomas Ken, in: Philip Schaff: Christ in Song, 1870, 150-151.