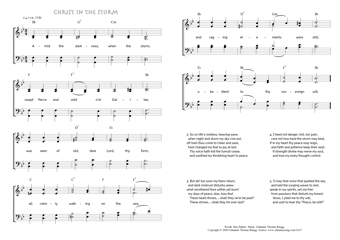 Christ My Song - 2167
Amid the darkness, when the storm - Christ in the Storm
(Ray Palmer/Johannes Thomas Rüegg)
Christ in the Storm.
"And he arose, and rebuked the wind,
and said unto the sea, Peace, be still." (Mark 4,39)
1. Amid the darkness, when the storm,
swept fierce and wild o'er Galilee,
was seen of old, dear Lord, thy form,
all calmly walking on the sea;
and raging elements were still,
obedient to thy sovereign will. PDF - Midi
2. So on life's restless, heaving wave,
when night and storm my sky o'ercast,
oft hast thou come to cheer and save,
hast changed my fear to joy at last.
Thy voice hath bid the tumult cease,
and soothed my throbbing heart to peace.
3. But ah! too soon my fears return,
and dark mistrust disturbs anew:
what smothered fires within yet burn!
my days of peace, alas, how few!
These heart-throes, – shall they ne'er be past?
These strives, – shall they for ever last?
4. I heed not danger, toil, nor pain,
care not how hard the storm may beat,
if in my heart thy peace may reign,
and faith and patience keep their seat;
if strength divine may nerve my soul,
and love my every thought control.
5. O may that voice that quelled the sea,
and laid the surging waves to rest,
speak in my spirits, set me free
from passions that disturb my breast.
Jesus, I yield me to thy will,
and wait to hear thy "Peace, be still!"
1867.
Ray Palmer, The Poetical Works of Ray Palmer, 1876, 67-68.
And in: Philipp Schaff: Christ in Song, 1870, 383-384.