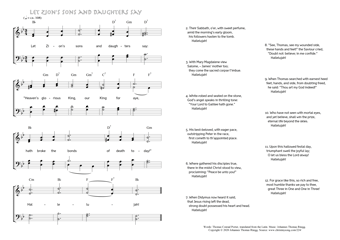 Christ My Song - 224
Let Zion's sons and daughters say
(Thomas Conrad Porter/Johannes Thomas Rüegg)
Let Zion's sons and daughters say.
1. Let Zion's sons and daughters say:
"Heaven's glorious King, our King for aye,
hath broke the bonds of death today!"
Hallelujah! PDF - Midi
2. Their Sabbath, o'er, with sweet perfume,
amid the morning's early gloom,
his followers hasten to the tomb.
Hallelujah!
3. With Mary Magdalene view
Salome, – James' mother too;
they come the sacred corpse t'imbue.
Hallelujah!
4. White-robed and seated on the stone,
God's angel speaks in thrilling tone:
"Your Lord to Galilee hath gone."
Hallelujah!
5. His best-beloved, with eager pace,
outstripping Peter in the race,
first cometh to th'appointed place.
Hallelujah!
6. Where gathered his disciples true,
there in the midst Christ stood to view,
proclaiming: "Peace be unto you!"
Hallelujah!
7. When Didymus now heard it said,
that Jesus rising left the dead,
strong doubt possessed his heart and head.
Hallelujah!
8. "See, Thomas, see my wounded side,
these hands and feet!" the Saviour cried,
"Doubt not: believe; in me confide."
Hallelujah!
9. When Thomas searched with earnest heed
feet, hands, and side, from doubting freed,
he said: "Thou art my God indeed!"
Hallelujah!
10. Who have not seen with mortal eyes,
and yet believe, shall win the prize,
eternal life beyond the skies.
Hallelujah!
11. Upon this hallowed festal day,
triumphant swell the joyful lay;
O let us bless the Lord alway!
Hallelujah!
12. For grace like this, so rich and free,
most humble thanks we pay to thee,
great Three in One and One in Three!
Hallelujah!
Thomas Conrad Porter, in: Philip Schaff: Christ in Song, 1870, 199-200.
Translated from the Latin O Filii et Filiæ.