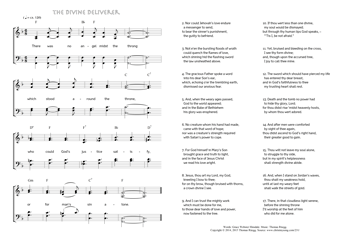 Christ My Song - 231
There was no angel midst the throng - The Divine Deliverer
(Grace Webster Hinsdale/Johannes Thomas Rüegg)
The Divine Deliverer.
John 10,30.
1. There was no angel midst the throng
which stood around the throne,
who could God's justice satisfy,
or for man's sin atone. PDF - Midi
2. Nor could Jehovah's love endure
a messenger to send,
to bear the sinner's punishment,
the guilty to befriend.
3. Not e'en the bursting floods of wrath
could quench the flames of love,
which shining hid the flashing sword
the law unsheathed above.
4. The gracious Father spoke a word
into his dear Son's ear,
which, echoing o'er the trembling earth,
dismissed our anxious fear.
5. And, when the weary ages passed,
God to the world appeared;
and in the Babe of Bethlehem
his glory was ensphered.
6. No creature whom his hand had made,
came with that word of hope;
nor was a creature's strength required
with Satan's power to cope.
7. For God himself in Mary's Son
brought grace and truth to light,
and in the face of Jesus Christ
we read his love aright.
8. Jesus, thou art my Lord, my God,
kneeling I bow to thee;
for on thy brow, though bruised with thorns,
a crown divine I see.
9. And I can trust the mighty work
which must be done for me,
to those dear hands of love and power,
now fastened to the tree.
10. If thou wert less than one divine,
my soul would be dismayed;
but through thy human lips God speaks, –
"'Tis I, be not afraid."
11. Yet, bruised and bleeding on the cross,
I see thy form divine;
and, though upon the accursed tree,
I joy to call thee mine.
12. The sword which should have pierced my life
has entered thy dear breast,
and in God's faithfulness to thee
my trusting heart shall rest.
13. Death and the tomb no power had
to hide thy glory, Lord;
for thou didst rise 'midst heavenly hosts,
by whom thou wert adored.
14. And after men were comforted
by sight of thee again,
thou didst ascend to God's right hand,
their greater good to gain.
15. Thou wilt not leave my soul alone,
to struggle to thy side,
but in my spirit's helplessness
shall strength divine abide.
16. And, when I stand on Jordan's waves,
thou shalt my weakness hold,
until at last my weary feet
shall walk the streets of gold.
17. There, in that cloudless light serene,
before the shining throne
I'll worship at the feet of him
who did for me atone.
Grace Webster Hinsdale, in: Schaff, Philip: Christ in Song, 1870, 347-349.