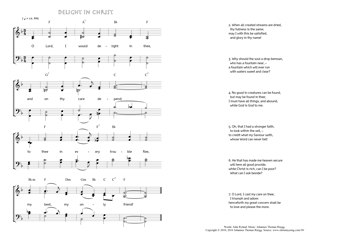 Christ My Song - 30
O Lord, I would delight in thee - Delight in Christ
(John Ryland/Johannes Thomas Rüegg)
Delight in Christ.
1. O Lord, I would delight in thee,
and on thy care depend;
to thee in every trouble flee, –
my best, my only friend! PDF - Midi
2. When all created streams are dried,
thy fullness is the same;
may I with this be satisfied,
and glory in thy name!
3. Why should the soul a drop bemoan,
who has a fountain near, –
a fountain which will ever run
with waters sweet and clear?
4. No good in creatures can be found,
but may be found in thee;
I must have all things, and abound,
while God is God to me.
5. Oh, that I had a stronger faith,
to look within the veil, –
to credit what my Saviour saith,
whose Word can never fail!
6. He that has made me heaven secure
will here all good provide;
while Christ is rich, can I be poor?
What can I ask beside?
7. O Lord, I cast my care on thee;
I triumph and adore:
henceforth my great concern shall be
to love and please the more.
Dec. 3, 1777.
John Ryland, in: Charles Rogers: Lyra Britannica, 1867, 490.
Title and date in: John Julian, A Dictionary of Hymnology, 1907, 983.