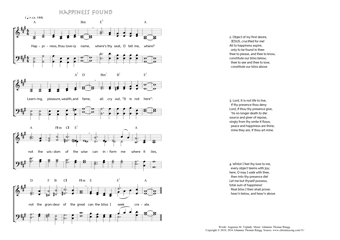 Christ My Song - 31
Happiness, thou lovely name - Happiness found
(Augustus M. Toplady/Johannes Thomas Rüegg)
Happiness found.
1. Happiness, thou lovely name,
where's thy seat, O tell me, where?
Learning, pleasure, wealth, and fame,
all cry out, "It is not here":
not the wisdom of the wise
can inform me where it lies,
not the grandeur of the great
can the bliss I seek create. PDF - Midi
2. Object of my first desire,
Jesus, crucified for me!
All to happiness aspire,
only to be found in thee:
thee to please, and thee to know,
constitute our bliss below;
thee to see and thee to love,
constitute our bliss above.
3. Lord, it is not life to live,
if thy presence thou deny:
Lord, if thou thy presence give,
'tis no longer death to die:
source and giver of repose,
singly from thy smile it flows;
peace and happiness are thine;
mine they are, if thou art mine.
4. Whilst I feel thy love to me,
every object teems with joy;
here, O may I walk with thee,
then into thy presence die!
Let me but thyself possess,
total sum of happiness!
Real bliss I then shall prove;
heav'n below, and heav'n above.
Augustus M. Toplady, Hymns and Sacred Poems, 1860, 158-159.