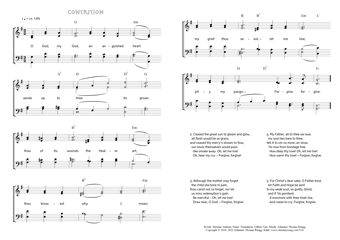 Christ My Song - 314
O God, my God, an anguished heart - Contrition
(Herman Andreas Timm/Gilbert Tait/Johannes Thomas Rüegg)
Contrition.
1. O God, my God, an anguished heart
sends up to thee its groan:
thou of its wounds the Healer art;
thou knowest why I moan;
my grief thou seest, – let me live;
pity my pangs: – Forgive, forgive. PDF - Midi
2. Ceased the great sun to gleam and glow,
all flesh would be as grass;
and ceased thy mercy's stream to flow,
our souls themselves would pass
like smoke away. Oh, let me live!
Oh, hear my cry: – Forgive, forgive!
3. Although the mother may forget
the child she bore in pain,
thou canst not us forget, nor let
us miss redemption's gain.
Be merciful – Oh, let me live!
Draw near, O God: – Forgive, forgive.
4. My Father, all to thee we owe;
my soul lies bare to thee;
tell it to sin no more, an show
'tis now from bondage free.
How deep thy love! Oh, let me live!
How warm thy love! – Forgive, forgive
5. For Christ's dear sake, O Father kind,
let Faith and Hope be sent
to my weak soul, so guilty, blind;
and if 'tis penitent,
it evermore with thee shall live,
and cease to cry, Forgive, forgive.
Gilbert Tait, The Hymns of Denmark, 1868, 131-132.
Translated from the Danish O Gud, min Gud! det bange hjerte - Almindelig Bededag
of Herman Andreas Timm.